thisisnotreallyablogforreal
Friday, January 06, 2006
2.7 Pounds!
Sometimes the Whole Foods Buffet is the reason I get up in the morning. I don't care if you guys think that's pathetic. I really don't care. There are three things I love when it comes to lunch: lots of choices, integrating different foods together in one plastic container, and getting to weigh my food.
Every time I go to a lunch buffet I think to myself, what a great deal, only 6 bucks for a pound of food! Then I fill up my plastic container with salad, and pasta, and pasta salad, and little something from the Indian Buffet, and a little some from the Latin Buffet, and a little something from the Sushi Buffet, and finally a little taste of the Dessert Buffet. It's awesome. Until I get to the cashier. I don't know what's worse, spending 16 dollars and change at the Whole Foods lunch buffet, or being able to consume 16 dollars and change worth of food-pounds at a Whole Foods lunch buffet.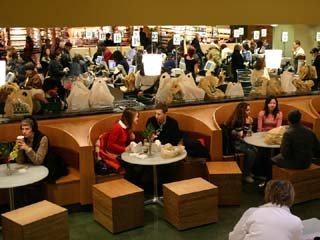 But the best thing about the Whole Foods buffet is the people. I always just park my pounds of food down wherever there's an available seat and this makes for great people watching/listening. Yesterday, I had the pleasure of sitting across from four different people who all made me want to throw up my 16 dollars worth of food.
The first two were already sitting down when I got there; two girls around 19 or 20. They both were wearing tights, ballet slippers, lots of make-up, and had their hair up in little braided buns. I get it girls, you're dancers. But why do you have to wear the slippers out of the studio? It looks ridiculous. Do I walk around the city with a cordless microphone and a laugh track? No. Will I when I'm old and crazy? Yes.
I sit down and they both stop talking and stare at me and my massive container of food. After surveying my choices, the 90 pound girl turns to the 95 pound girl and says,
90 Pounder: Do you know how fattening the mayo is in those pasta salads?
95 Pounder: I know. It's so nasty ass.
They have insulted my food, and I hate them already.
90 Pounder: You and Jeremy we're so cute at the party. How jealous was Stephanie?!
95 Pounder: So jealous!
90 Pound: She's such a bitch.
95 Pounder: I know. She's just pissed cause Jeremy and I, like, really mesh.
90 Pounder: Totally. You so mesh
95 Pounder: We do. We're like . . we're like . . .
She looks down at her container.
95 Pounder: Spinach and Artichokes!
90 Pounder: Ha! No, no, no, you're like cucumber and avocado.
95 Pounder: Chips and Salsa!
90 Pounder: Ha! Good one!
They do this for the next ten minutes while I finish my artery clogging pasta salad.
The next people who sat across from me were a cute couple sharing one cute little plastic container. They seemed okay, not too annoying. Yet the girl talked really softly so I had a hard time overhearing their conversation. That is until a friend came over to say hi.
Friend: What's up girl? I always see you around here.
Girlfriend (whose name we will find out later is Laura) I know. Have you met Joel before?
Friend: Yeah, I think we met once before.
Joel: Hey, what's up?
So they talk and eat blah blah blah and then the friend turns to Joel and says,
Friend: Wait, are you from Boston?
Joel: Nope.
Friend: Where are you from again?
And Joel looks at his girlfriend, smiles, and says,
Joel: I'm from Lauraville. I don't know if you've heard of it. It's located in Lauratown just off the St. Laura Bridge.
Then Joel laughs at his brilliant statement of affection, Laura giggles, the friend exclaims "That is sooo sweet!" and I throw up a little bit in my mouth.
- - - - - - - - - - - - - - - - - - - - - - - - - - - - - - - - -
Just a reminder: add your questions for the Dear Mindy column in the comment section or e-mail mindy@mindyraf.com. And, if you're sending them via e-mail, please put Dear Mindy as the subject. If you put something X rated in the subject line ( Jason from Ohio!) I will probably think it's spam.
posted by Mindy at
8:36 AM


|